None 4 Under 21 and Choices Beyond – 2013
More than 2,000 high school students heard stark stories about the dangers of drinking and driving during the 11th annual None 4 Under 21 and Choices Beyond Program on April 16, 2013, at Hiram College.
The personal injury attorneys of Elk & Elk were proud to again serve as one of the sponsors of this important event. The event is held before prom season each year to remind students of the serious consequences of drinking and driving.
Elk & Elk Partner Jay M. Kelley reminded the high school seniors that they are responsible for making smart choices for themselves and helping friends do the same. "We define tragedy every day for our clients. And the easiest way to define it is a catastrophic outcome that was preventable. Drinking and driving and its consequences are preventable … it's up to you guys to make the appropriate decisions for yourself and your friends."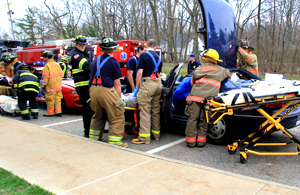 As the students arrived at the event, they were led past the scene of an "accident," complete with "victims" and emergency personnel working to save them. But the None 4 Under 21 event goes far beyond the typical mock accident, giving students the opportunity to hear real stories from real people about the consequences of drinking and driving. Three speakers — a grieving father, a convicted felon still in prison and a convicted felon who has finished his sentence — shared their personal stories about the consequences of bad decisions.
Marc Streem, a registered nurse for more than 25 years, lost his 14-year-old son in a car accident. Christina Reed is serving an eight-year sentence for aggravated vehicular homicide, aggravated assault and OVI after she killed a 15-year-old girl. Aaron Cooksey was a star high school athlete with a college football scholarship when a knee injury sent his life on a downward spiral that culminated in an alcohol-fueled wreck in July 2001 that left his best friend, Andrea, dead.
"I'm a constant daily reminder of why Andrea is not sitting across from (her parents) at dinner," Cooksey told the students.
Following the presentation, students were led through The Walk of Remembrance, an emotional tribute to local families who have lost loved ones to traffic-related accidents.
After the event, Kelley presented checks to the winning teams in the banner contest. A team from Windham High School took first place in the banner contest, winning $2,000 for their school. Tallmadge High School won the $1,000 second-place prize.
"The need for it is that there are so many young people involved in fatal traffic crashes," said emcee Lt. Brian Holt of the Ohio State Highway Patrol. "The mindset tends to be one that it will never happen to me. The reality is, as we've shown here today, that there are people whose lives are impacted — not only the people who do it but the victims and the victims' families that are left behind."
The Ohio personal injury lawyers at Elk & Elk believe strongly in the message of None 4 Under 21 and believe that making good choices can save lives. That's why we continue to take part in this important event each year.
You can watch a recap of the event here.
Elk & Elk is proud to support deserving charities and organizations through financial contributions and providing advertising space online and TV. View our community videos.