YOU could win tickets to the next Cleveland Browns home game!
This contest has ended.
We are giving away one pair of Cleveland Browns tickets for the October 7 home game against the Ravens at FirstEnergy Stadium. Follow the instructions below for a chance to cheer on your favorite football team.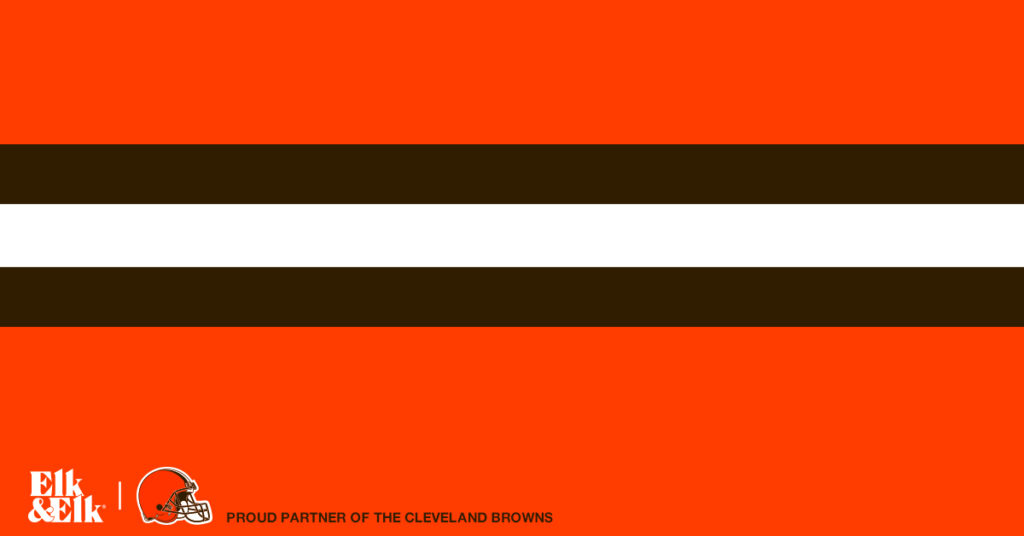 HOW TO ENTER
SUBMIT the form entry below.
LIKE Elk & Elk on Facebook OR FOLLOW @elkandelk on Twitter.
COMMENT "Go Browns!" on our pinned Cleveland Browns post on Facebook OR RETWEET our pinned Cleveland Browns tweet on Twitter. The designated posts will feature the image above.
ENTRY PERIOD 12 AM on Sunday, September 30 to 12 PM on Monday, October 1
Elk & Elk will randomly select one (1) winner from all eligible entries to receive two tickets to the Cleveland Browns game on Sunday, October 7.
The winner will be notified on his or her platform of entry (Facebook or Twitter) by tagged comment or direct message within 24 hours of the closing of the respective giveaway entry period on Wednesday, October 2. The winner will have 24 hours to respond to receive further instructions. In the event the winner cannot be reached after 24 hours of attempted contact or declines the prize, another winner will be selected from the remaining eligible entries.
To enter, you must have a Facebook or Twitter account. If you do not have a Facebook or Twitter account you may sign up for free by visiting www.facebook.com or www.twitter.com OR by downloading the Facebook or Twitter application on your mobile device and following the enrollment instructions.
Entries are limited to one (1) per person. Privacy settings on the participant's profile of entry on each platform must be set to public for the duration of the giveaway entry period to ensure their entry is counted.
Elk & Elk does not assume any responsibility for incorrect or inaccurate capture of entry information, technical malfunctions, human or technical error, lost/delayed/garbled data or transmissions, omission, interruption, deletion, defect or failures of any telephone or computer line or network, computer equipment, software or any combination thereof.
Entry materials that have been tampered with or altered are void. The use of robotic, repetitive, automatic, programmed or similar entry methods of agents (including but not limited to, Sweepstakes entry services) are prohibited and will void all such entrant's entries. Incomplete entries will be disqualified.
If, in Elk & Elk's opinion, this Sweepstakes is compromised or becomes technically corrupted in any way, electronically or otherwise, Elk & Elk reserves the right to cancel, terminate or suspend the Sweepstakes (or the online portion thereof, if applicable) and, in such event, to select a winner for the prize by randomly drawing from among all valid entries received, up to such time of cancellation, termination or suspension. Elk & Elk further reserves the right, in its sole discretion, to cancel or modify the Sweepstakes if fraud or other failure destroys the integrity of the Sweepstakes.
NO PURCHASE NECESSARY:
All entrants agree to be bound by the terms and conditions provided in these Official Rules as well as by all interpretations of these Official Rules by Elk & Elk Co., Ltd., and by all other decisions of Elk & Elk Co., Ltd., including resolution of disputes in connection with these giveaways, which are final and binding in all matters relating to the contests.
No purchase necessary to enter or win a prize. A purchase will not improve your chances of winning. Odds of winning will depend on the total number of entries received. An individual who was selected as the winner of a previous giveaway hosted by Elk & Elk may not be selected as the winner of another Elk & Elk giveaway for six (6) months following their original selection. If a previous winner is randomly selected, an alternative winner will be chosen at Elk & Elk's discretion. Void where prohibited by law. All disputes will be resolved solely by binding arbitration and entrants waive the ability to bring claims in a class action format.
Prize is non-transferable and must be claimed by the selected winner.
Upon notification, the selected winner must provide his or her email address, mailing address and any other requested contact information to Elk & Elk. The prize will be delivered to the winner using a method selected by Elk & Elk. The firm does not assume responsibility for any errors that occur during the delivery process, but may choose to arrange an alternative prize if an error occurs.
Open to Ohio residents only.
Sweepstakes open to Ohio residents who are at least eighteen (18) years old at time of entry, except employees and immediate family members (spouse, parents, siblings and children) of [Elk and Elk Co., Ltd., "Elk & Elk"], and respective parents, subsidiaries, affiliates, directors, officers, owners, agents and partners (collectively, the "Released Parties").
By entering, entrant agrees to follow the Official Rules and hold harmless and indemnify the Released Parties against any and all liability, damages or causes of action (however named or described), with respect to or arising out of the Sweepstakes, including, but not limited to, (i) entrant's participation; or (ii) the receipt or use of the prizes awarded in the promotion. By entering, entrant further agrees and consents to the sharing of his or her information with Elk & Elk Co., Ltd., and the Cleveland Browns and to receiving promotional and marketing communications from Elk & Elk Co., Ltd., and the Cleveland Browns.
By submitting a photo or video, entrants grant Elk & Elk Co., Ltd., permission to use their likeness in a photograph or video in any and all publications, including advertisements and websites, without payment or any other consideration. Submitted materials and photographs become the property of the above party.
Entrants irrevocably authorize the above party to edit, alter, copy, exhibit, publish or distribute these photographs or videos for purposes of advertising, marketing and publicizing events or businesses or for any other lawful purpose. In addition, entrants waive the right to inspect or approve the finished product, including written/physical or electronic copy, wherein their likeness appears. Entrants also waive any right to royalties or other compensation or considerations arising or related to the use of these photographic or video materials.
Entrants hereby hold harmless and release and forever discharge Elk & Elk Co., Ltd., Cleveland Browns Football Company LLC, the National Football League, and each of their respective parents, affiliates, subsidiaries, directors, employees and agents from all claims, demands and causes of action which entrants, their heirs, representatives, executors, administrators or any other person acting on behalf of their estate have or may have in the future by reason of this authorization and release.
Proof of age and residency may be required.
This sweepstakes is in no way sponsored, endorsed or administered by any parties other than Elk and Elk.