COVID-19 Resource Page
Coronavirus Basics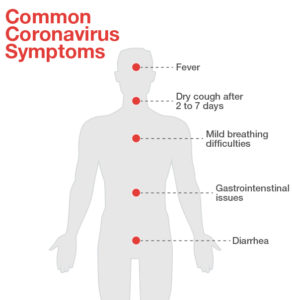 COVID-19 is a new coronavirus that has not been previously identified. It primarily spreads from person to person, through respiratory droplets produced when an infected person coughs or sneezes. Symptoms include mild to severe respiratory problems with fever, cough and difficulty breathing. Learn more.
The latest
You can find the most up-to-date information about coronavirus disease 2019 on the Center for Disease Control and Prevention's (CDC) COVID-19 page. This page includes helpful links, such as:
What to do if you are sick
If you think you have been exposed to COVID‑19 and develop a fever and symptoms, such as cough or difficulty breathing, call your healthcare provider for medical advice. According to the CDC, most people have mild illness and are able to recover at home.
If you have an emergency warning sign (including trouble breathing), get medical attention right away.
For testing locations and questions, check with your state health department.
Follow these steps if you have (or think you might have) COVID-19:
Stay home, except to get medical care.
Get rest and stay hydrated.
Keep in touch with your doctor.
Stay away from others as much as possible.
Continually monitor your symptoms.
Contact Information
Legal Issues
Elk & Elk fully supports COVID-19 frontline workers. We are proud to serve as a legal resource for employees everywhere.
COVID-19 & workers' compensation
Certain jobs pose a special risk of contracting COVID-19. Professions like first responders and healthcare workers face a greater probability of occupational exposure. Ohio Bureau of Workers' Compensation could allow claims from these and other essential workers. Certain states have taken steps to ensure special categories of employees are provided workers' compensation if they are infected with coronavirus while on the job.
Emergency paid leave under the Families First Coronavirus Response Act
On March 18, 2020, President Trump signed into law the Families First Coronavirus Response Act (FFCRA), which created new emergency paid leave requirements in response to the COVID-19 global pandemic. The FCRA requires certain employers to provide employees with paid sick leave or expanded family and medical leave for specified reasons related to COVID-19. These conditions will apply through December 31, 2020. Learn more.
COVID-19 & nursing homes
According to the New York Times, as of April 17, the coronavirus has claimed at least 7,000 lives in nursing homes throughout the United States. Outbreaks have unfolded across the country. Nearly 20 percent of COVID-19 deaths are linked to nursing facilities. The Centers for Medicare & Medicaid Services' COVID-19 recommendations for long-term care facilities can be viewed here.
Stimulus Checks
Millions of Americans have already received their federal stimulus payments. The Internal Revenue Service (IRS) continues to calculate and automatically send the payments to most eligible individuals. However, some may have to provide additional information to the IRS to get their payments. The IRS has answers to frequently asked questions concerning the payments.
Economic Resources for Ohioans
State agencies have programs and policies in place aimed at assisting residents facing COVID-19 hardships. Click the links for more information.
Scams
Be on the lookout for coronavirus scams.
Contact tracing scams: Criminals posing as contact tracers try to get social security or bank account numbers from people – information the health department will never ask for. For more information, click here.
Stimulus check scams: Do not respond to any messages from someone claiming to be from the government who requests personal information in exchange for access to your stimulus check. For information about the federal relief checks and when you can expect yours, visit the IRS's coronavirus resource website.

The Ohio Department of Job and Family Services (ODJFS) is warning people about a new stimulus check scam. If you are using Pandemic Unemployment assistance, you could be targeted. The scam sends messages falsely using the ODJFS logo. It tells recipients that they are approved for a stimulus check. They are asked to click a link and submit their personal information to accept the payment. ODJFS says they do not send these types of messages and warns people to beware of scams like these that ask for private information. If you received this notification or one like it, you are asked to report it to the Ohio Attorney General's Office at 1-800-282-0515.

Student loan scams: Watch out for offers to waive your student loan debt or change your repayment plan for a fee, or requests for other personal information in order to suspend your payments due to COVID-19. You should not have to pay a fee to receive help from your loan provider. If you are having difficulty making payments because of financial hardship, contact your loan servicer for options.
Social security scams: Be wary of scammers who say that your social security number is about to be suspended. Look out for calls or letters claiming that your benefits will be canceled due to coronavirus-related office closures, as well. Reach out to the Social Security Administration yourself before sharing any sensitive information. If you have fallen victim to a scam, visit IdentityTheft.gov/SSA.
Medicare scams: Be on the lookout for fake Medicare representatives asking you for personal information like your bank account, social security or Medicare numbers. Real Medicare representatives will never call you to verify your account number. If you're questioning the legitimacy of a phone call, contact Medicare at 1-800-633-4227.
Charitable scams: Fake charities might use names that sound similar to real organizations. They may even have emails, websites and phone numbers that appear legitimate. Only donate to charities that you already know. If you're unsure about the authenticity of a charity, you can use third-party websites to check credentials.
Fake insurance scams: Be suspicious of insurance products that emphasize COVID-19 coverage. Personal information should never be shared unless you are certain you are dealing with a legitimate insurance agent, agency or company. Ohioans can verify that an individual and entity are licensed by the Ohio Department of Insurance by visiting www.insurance.ohio.gov.
Fake Antibody tests: Scammers are stealing people's personal information by offering fake antibody tests. Before you agree to any antibody tests, the FBI recommends you talk with your doctor — they should know the tests that are FDA-approved and considered accurate.
COVID-19 Economic Injury Disaster Loan
Congress approved the Coronavirus Aid, Relief and Economic Security (CARES) Act. Small businesses can apply for disaster relief solutions at the U.S. Small Business Administration's (SBA) website or at local district offices.
The Small Business Owner's Guide explains the following available strategies for businesses impacted by the pandemic.
Paycheck Protection Program: If approved, businesses can receive loans to maintain payroll for their workers. Up to eight weeks of payroll costs are eligible for loan forgiveness. Additionally, low-interest loans for longer payroll periods will have payments and interest deferred for six months to a year.
Small Business Debt Relief Program: The Small Business Administration will cover the principal, interest and fees on certain loans. Anyone approved for a new loan during this time can also utilize this program.
Economic injury disaster loans and grants: The SBA is offering grants of up to $10,000. This money is available to organizations that apply for a COVID-19 Economic Injury Disaster Loan.
Counseling and training: Local and niche organizations are available to help with guidance and training during this pandemic. They include the Small Business Development Center, the Women's Business Center, SCORE Mentorship and Minority Business Development Agency's Business Centers.
Private loan assistance: Credit agencies and banks are offering low-interest loans and economic guidance. Sample interest rates from lenders as well as small-business loan advice are available here.
Responsible RestartOhio
Per Ohio Department of Health, Responsible RestartOhio is about protecting the health of employees, customers and their families; supporting community efforts to control the spread of coronavirus; and leading in responsibly getting Ohio back to work. The following resources are available: