Meet David Elk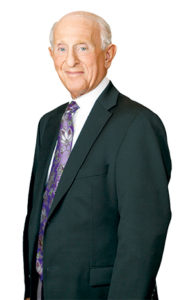 Today we are getting to know attorney David Elk (Senior Partner) in a continuation of interviews with the partners at Elk & Elk.
Early life
I was born and raised in the Cleveland area. I attended Cleveland Heights High School and Case Western Reserve University, graduating with a bachelor's degree in business administration. After that, I attended Case Western Reserve University Law School and graduated with a J.D. degree.
Neither of my parents or grandparents went to college, but they taught me hard work and honesty are vital both in your personal and professional life. To this day I continue to try and live by that rule.
Growing up, I enjoyed a variety of hobbies and activities, such as wrestling, working out and boxing. But, without a doubt, my favorite pastime of all was baseball and it still is.
Career
I have devoted my entire professional career of 51 years to helping injured people receive the compensation they deserve.
I knew early on that I wanted to help people, so I began my professional career with one of the largest and most prestigious personal injury law firms in Ohio. I realized that the best way to help someone is to provide quality legal representation to everyone, regardless of whether they could afford it or not.
I am still very active in my practice and enjoy preparing cases for depositions, mediations and arbitrations. With our resources, I do all that it takes to achieve a great result for our clients.
Family
I have been married to my best friend and soul mate, Marilyn, for 51 years. She works as the Chief Financial Officer for the firm.
I have three grown daughters whom I adore. One of them is an attorney and CPA working for the firm. The other two are hardworking and have wonderful careers. When I go in to the office, it's not like going to work. My wife is in the office next to mine, my daughter is in the office next to hers and my brother (partner Art Elk) is down the hall. His wife Jody also works at the office.
My five grandchildren are the true joys of my life and I try to spend as much time with them as possible, either at home or on family vacations.
My family knows how I feel about them and my career, and they have always been supportive. For this, I am truly blessed.
Retirement
People ask me when I am going to retire. I always tell them, "Why would I retire? I love helping people. For me, what I do is not work."
Most Important accomplishment
I believe my most important accomplishment in life is still feeling the same way about my wife as I did when we got married more than 50 years ago. I feel equally blessed to have a wonderful family.
Professionally, it has been my honor and pleasure to have represented injured people and protect their rights for over five decades.
I am so proud that my brother Art and I, my partners, our lawyers, and our support staff have been able to provide quality legal services for citizens throughout Ohio.