5 Attorneys Named Top 100 Ohio Super Lawyers
Elk & Elk Co., Ltd. announces the recognition of their trial attorneys as Ohio Super Lawyers and Rising Stars.
CLEVELAND, OH (December 2, 2015) – The personal injury law firm of Elk & Elk® is proud to announce that five of the firm's attorneys have been named to the Super Lawyers Top 100 Ohio and Top 50 Cleveland lists. The rating service selected a total of eleven attorneys from the firm for inclusion in the 2016 Ohio Super Lawyers list. Additionally, three Elk & Elk attorneys were named to the 2016 Ohio Rising Stars list, which honors top attorneys in the state who are 40 years old or younger or who have been practicing for 10 years or less.
14 Elk & Elk Attorneys named Ohio Super Lawyers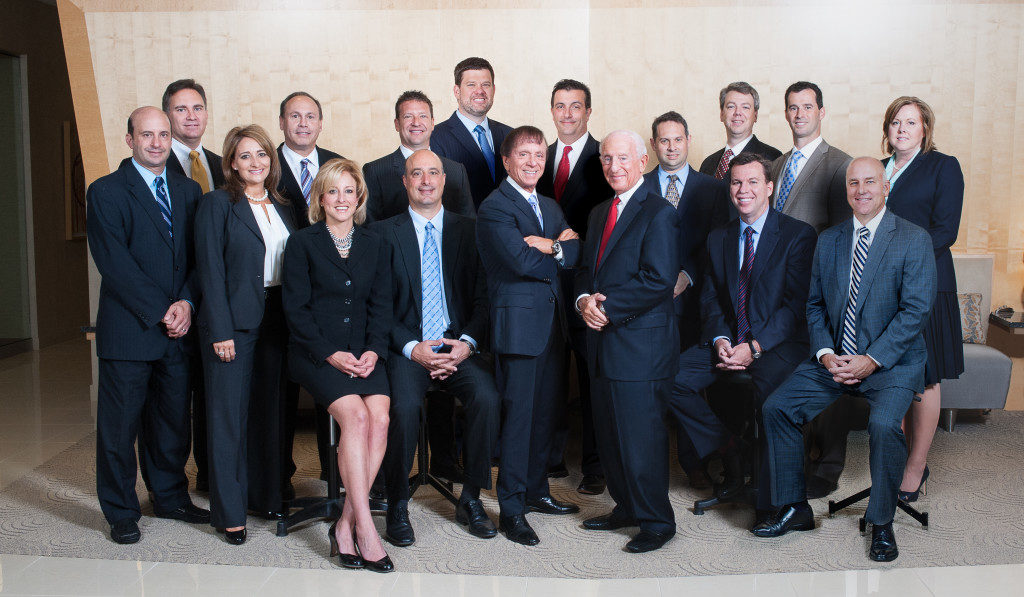 FRONT ROW (L TO R): Kevin Lenson, Amy Papesh, Marilena DiSilvio, Phillip Kuri, Arthur Elk, David Elk, James Kelley, John O'Neil; BACK ROW: William Campbell, Gary Cowan, Rob Dubyak Of Counsel, R. Craig McLaughlin, William Price, Ryan Harrell, Matthew Carty, Michael Eisner, Kimberly Young (Photo credit: Nannette Bedway/Nannette Bedway Studio)
Super Lawyers is an independent organization that recognizes the leading lawyers in each state on an annual basis. Attorneys are chosen through a rigorous selection process, which includes peer nominations, independent research and peer evaluations. Only five percent of lawyers in the state are named Super Lawyers.
"I am very proud of the fourteen lawyers at Elk & Elk who have been recognized statewide for their experience, professionalism and results," said Managing Partner Arthur Elk. "It is an honor to have our firm's depth of talent recognized by our peers. Each of these attorneys is an incredible advocate for our clients and representative of this firm."
Elk & Elk is the only personal injury law firm with five attorneys in the Top 100 Ohio and Top 50 Cleveland lists. Recipients of this distinction include James M. Kelley III, John P. O'Neil, Phillip A. Kuri, Marilena DiSilvio and William J. Price. DiSilvio was further distinguished in the publication; garnering a place in the Top 50 Women Ohio and Top 25 Women Cleveland attorney lists.
Six additional attorneys were selected as 2016 Ohio Super Lawyers, including: Gary Cowan, R. Craig McLaughlin, Amy L. Papesh, Michael L. Eisner, William P. Campbell and Kevin L. Lenson. Also named was Robert Dubyak, Of Counsel to Elk & Elk. Attorneys named to the Rising Stars list are Matthew J. Carty, Kimberly C. Young and Ryan M. Harrell.
The list of Ohio Super Lawyers appears in the January 2016 issues of Cleveland Magazine, Cincinnati Magazine, Columbus Magazine and the Ohio & Kentucky Super Lawyers magazine.
---
About Super Lawyers
Super Lawyers, a Thomson Reuters business, is a rating service of outstanding lawyers from more than 70 practice areas who have attained a high degree of peer recognition and professional achievement. The annual selections are made using a rigorous multiphase process that includes a statewide survey of lawyers, an independent research evaluation of candidates and peer reviews by practice area.
About Elk & Elk
Elk & Elk Co., Ltd. is a personal injury law firm representing clients in cases throughout Ohio and Kentucky. The firm has 20 attorneys with experience in motor vehicle collisions, medical malpractice, nursing home neglect, defective products, work place accidents, social security disability, premises liability and mass tort claims. Elk & Elk has offices in Cleveland, Columbus, Cincinnati, Akron, Canton, Dayton, Toledo, Youngstown, Louisville and Seattle. For more information, visit elkandelk.com.