Seattle Wrongful Death Attorney
The death of a loved one is an extremely difficult thing for a family to endure. Their death's impact can be far-reaching and have many hidden consequences a family is not prepared to handle. Among these can be loss of income, emotional distress, and funeral/burial expenses.
Elk & Elk is an experienced law firm that provides Seattle wrongful death lawyers who are ready to take on complicated claims surrounding the unexpected loss of a loved one. As Elk & Elk delves into some of the intricacies surrounding civil suits in Washington state, we hope to better prepare you for what lies ahead following a family member's wrongful death. Let us help you secure the closure and compensation you need. Contact our firm for a free consultation
Wrongful Death Resources
Why Elk & Elk Is Seattle's Number One Wrongful Death Law Firm?
While there are many firms around the greater Seattle area, Elk & Elk stands out above the rest. Our clients' reviews of our services applaud our transparent form of communication and high success rates covering many different areas of law.
Elk & Elk has decades of experience throughout Washington state and the country dealing with complex cases in many areas of law.
Our firm's sole focus is getting your family as much possible compensation as possible. We are willing to do anything in our power to achieve this.
We have settled numerous multimillion-dollar settlements for our clients across Washington state.
Elk & Elk works on a complete contingency fee basis, meaning you will not have to pay any out-of-pocket fees until our lawyers win your case.
Why Is an Attorney Essential to Your Wrongful Death Claim?
A Seattle wrongful death attorney is necessary when pursuing a wrongful death claim. Lawsuits such as these can be extremely complicated, as proven by the recent change in laws regarding what kind of damages can be pursued in a wrongful death claim.
In Washington state, a loved one can now sue for "loss of love, relationship or companionship" – damages that were not able to be sued for in years' past.
Additionally, parents and siblings of the deceased no longer must be financially dependent on them.
Despite this, children and registered domestic partners may have priority to sue over the parents and siblings depending on the case.
When considering these factors and more, a wrongful death lawsuit can be incredibly complicated for someone inexperienced in civil law to undertake.
Allowing an attorney to review and advise you on your case can be beneficial to your pursuit of compensation. Your wrongful death lawyer will collect documentation and file your claims according to Washington state law. They will be able to negotiate with insurance companies and the party of the offender attempting to deny paying damages to your claims. Above all, a Seattle wrongful death attorney from Elk & Elk will do anything in their power to fight for your rights as a relative of someone who has passed away due to the negligent actions of another person.
What Constitutes a Wrongful Death in Washington?
There are many factors to consider when a person is killed as a result of the actions of another. According to Washington state law, a wrongful death is when someone's passing is caused by the negligence or wrongful action of another person. In this kind of lawsuit, the deceased's personal representative may file a suit against the person who caused the death for various types of economic and non-economic damages.
Some Examples of Wrongful Deaths
There is a plethora of different kinds of accidents that could result in the death of an individual. This can include, but is not limited to, the following:
Truck accidents. A truck driver negligently operating their vehicle can sometimes result in the death of an individual. The enormity and power of a truck makes it one of the deadliest types of accidents to be involved in.
Car accidents. Our Seattle Car accidents lawyers understand that accidents are one of the most common ways to be involved in a fatal injury. With over 550 deaths as a result of car wrecks in Washington state every year, fatal automobile incidents are unfortunately quite common.
Motorcycle accidents. Motorcycles have high mortality rates as they are not vehicles with closed cabins like most other types of motorized vehicles on the road. A crash involving a motorcycle has a much higher chance of causing death than a traditional car versus car accident.
Bicycle accidents. Like motorcycles, bike riders are at a disadvantage with other types of vehicles on roadways. Finally, product liability cases involving faulty products are not uncommon.
Medical malpractice. Surgeons and other medical practitioners can make mistakes accidentally or knowingly perform malpractice upon a patient. Cases of medical malpractice can leave a patient with serious deformities or other health issues that they may have to deal with for the rest of their lives. If you or a loved one has been involved in a malpractice injury, contact our Seattle medical malpractice lawyers today!
Workplace accidents and illnesses. In a time of worldwide pandemics, illness and injuries incurred in the workplace is gaining more recognition under the category of wrongful death. There are many potential examples of this such as falling and inadequate safety protocols that can lead to wrongful death.
Compensation Available in a Wrongful Death Claim
Even though a wrongful death lawsuit must be filed by the personal representative of the deceased individual's estate, any damages awarded are on behalf of the deceased's surviving family members. Our goal is to help grieving family members receive closure and the compensation they are entitled to so they can move forward. We work to recover both economic and non-economic damages on behalf of individuals filing a wrongful death lawsuit. Some damages commonly awarded in these situations include:
The last medical bills of the deceased

Funeral and burial costs

The loss of financial support the deceased would have provided to their family throughout their lifetime

The value of lost household services the deceased typically provided and would have continued to provide

The loss of the deceased's care, love, affection, and companionship
The Statute of Limitations for Wrongful Death
Family members and the estates of those who lose their life due to the negligence of others need to file their claims as soon as possible. In Washington, the wrongful death statute of limitations is three years from the date of death (Wash. Rev. Code § 4.16.080(2) (2021). If a wrongful death lawsuit is not filed within this three-year time frame, the case will likely be dismissed, resulting in the family members and the estate recovering no compensation at all.
It is important to keep in mind that any insurance carriers involved with a wrongful death claim will likely have their own much shorter reporting deadlines in place. These cases are often resolved through settlements with insurance carriers, so we encourage you to investigate the insurance carrier filing deadlines and ensure the claim gets filed on time. Your wrongful death lawyer in Seattle can walk you through this process and help ensure your claim is filed properly and within the required time frames for insurance carriers and for a civil wrongful death lawsuit.
Washington State Wrongful Death FAQs
Do I Have Reason to File a Wrongful Death Lawsuit?
We understand that it can be confusing to know whether or not you have a reason to file a wrongful death lawsuit. If you have lost a loved one due to the careless or negligent actions of another individual, business, or entity in the Seattle area, we encourage you to reach out to a wrongful death lawyer for a free consultation. An experienced attorney can help guide you through this process and examine the facts of the case. They can help you determine whether or not you have a viable wrongful death lawsuit at hand. Family members should work hand in hand with the personal representative of the deceased's estate if a family member is not the personal representative.
An attorney is going to look at whether or not the alleged negligent party owed a duty of care to the deceased, and the study of care will look different depending on the circumstances surrounding the wrongful death. If the defendant did owe the deceased a duty of care, an attorney will examine whether or not the defendant breached their duty of care in some way, which means their actions or inaction led to the circumstances that caused the death.
How Long Do Wrongful Death Cases Take In Washington?
the average time for a wrongful death case to reach a resolution can vary widely. On average, these cases can take anywhere from one to three years, but again, this is a general estimate and can vary based on numerous factors.
The factors that can influence the duration of a wrongful death case include:
Complexity: Cases with intricate legal or factual issues tend to take longer to resolve.
Number of Parties: Cases involving multiple defendants, plaintiffs, or parties can lead to more complicated negotiations and longer legal proceedings.
Discovery: The time it takes to gather and exchange evidence, conduct depositions, and review documents can significantly impact the overall timeline.
Settlement Negotiations: If the parties are willing to negotiate and reach a settlement early on, the case could be resolved more quickly.
Court Schedule: The availability of court dates, the caseload of the specific court, and other scheduling considerations can influence the timeline.
Appeals: If either party appeals the verdict or any part of the case, it can extend the timeline considerably.
Case Management: The efficiency and cooperation of the legal teams, as well as the judge's management of the case, can affect how long it takes to move through the legal process.
Expert Witnesses: If expert witnesses are involved, their availability and preparation time can influence the timeline.
AREAS WE SERVE:
Capitol Hill | Ballard | Fremont | Green Lake | Queen Anne | Belltown | South Lake Union | Pioneer Square | University District (U-District) | Wallingford | Columbia City | Ravenna | West Seattle | Magnolia | Beacon Hilll |Central District | International District (Chinatown) | Madison Park | Phinney Ridge | Montlake | Wedgwood | Eastlake | Northgate | Georgetown | Rainier Valley | Sodo (South of Downtown) | Maple Leaf | Laurelhurst | Madrona | Bryant
"Bill Price is an excellent attorney!! He was compassionate and caring. He represented my sister & I in a nursing home case involving our father. He was very aggressive and settled our case professionally!" – Cheryl K.
Case Results – Wrongful Death
We are proud to represent injury victims in Seattle and across Washington with integrity and fierce dedication. Some notable settlements and verdicts we have secured on behalf of our clients include:
$39,000,000 Settlement: Case brought on behalf of a 41-year-old Ohio man struck by a vehicle and died while working in a construction zone. A Cleveland jury awarded $19 million in compensation for wrongful death and $20 million in punitive damages. The jury found 60% fault with construction company, 30% fault of the driver of the vehicle, and 10% to the Plaintiff. The case settled on an appeal filed. Case tried with co-counsel.
$2,761,228 Settlement: Plaintiffs were riding a motorcycle when the right rear axle broke. An auto parts store sold the defective part. The husband was killed and his wife was severely injured.
$1,900,000 Settlement: The 39-year-old Plaintiff was killed in a motor vehicle accident after the Defendant went left of center.
Elk & Elk Is Who You Need for a Successful Claim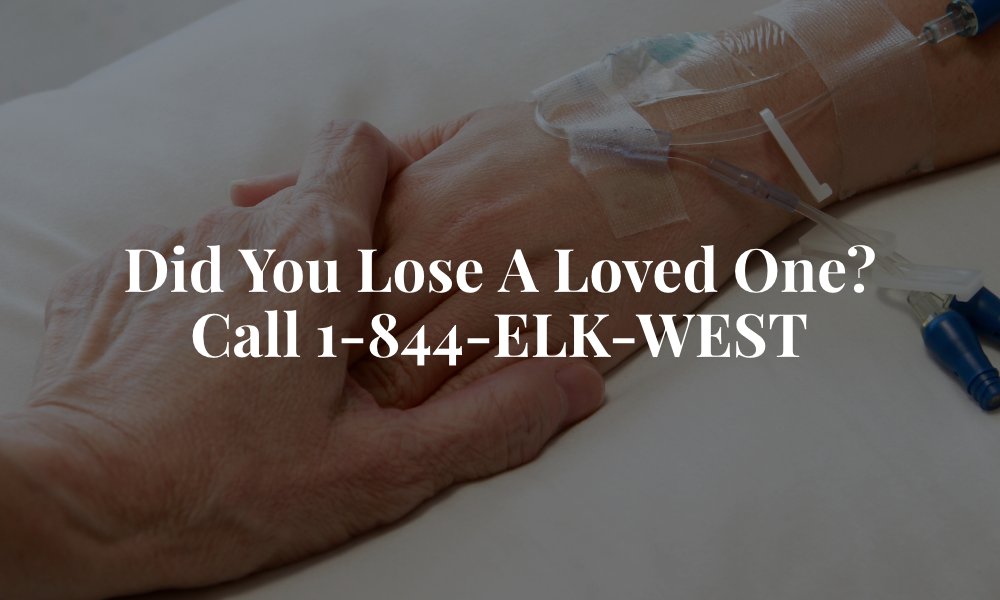 As the first choice for many Seattle residents, Elk & Elk is widely recognized as one of the best firms for handling wrongful death claims in the region. Oftentimes, those seeking damages turn away legal representation as they are concerned about out-of-pocket fees. At Elk & Elk, this is not a worry as our Seattle wrongful death lawyers not only provide a free consultation to review your case but we also do not accept any money until you have received compensation from your suit.
Our policies have proven popular and successful for all those we have represented across the country. We are dedicated to your cause and want to hear about your wrongful death case. Please consider calling our Seattle personal injury lawyers at 1-844-ELK-WEST (1-844-355-9378) or clicking here to reach out through a 24/7 contact form. The first step can oftentimes be the hardest, but Elk & Elk is here to help you through every step of your case.