Seattle Motorcycle Accident Attorney
Motorcycle riders are extremely vulnerable to injury in any type of accident. They have little protection, even if they wear helmets and other protective gear. The bike is lightweight compared with other vehicles on the road. In an accident between a motorcycle and a car or truck, the motorcycle almost always loses, and injuries to the rider can be catastrophic.
If you were injured or a loved one has died in a motorcycle crash, our law firm may be able to help you obtain compensation. Call the Seattle law office of Elk & Elk, and seek help from a motorcycle accident attorney to learn about your legal rights and options. You may be eligible for compensation. To learn more, contact us online or call 1-844-ELK-WEST (1-844-355-9378).
Motorcycle Accident Resources
How Our Lawyers Build Strong Motorcycle Accident Cases
Motorcycle riders have the same rights as other drivers. Our law firm is dedicated to helping injured riders enforce those rights. To do that, our attorneys build strong cases by consulting with medical experts to determine the impact of the injuries, reviewing police accident reports, interviewing witnesses, and working with vocational specialists to determine whether you will be able to work again. We use all this information and more to calculate the true cost of the accident to you and your family and to seek maximum compensation.
Experience and Resources Make a Difference in Seattle
Our lawyers have fought big insurance companies for more than 50 years in pursuit of justice and fairness for injured clients. We have the resources to level the playing field and take on these large corporations in a fair fight.
Our network of nationally recognized experts is second to none. But our biggest resource is our group of caring and hardworking lawyers who fight for the rights of each client. Once we take on a motorcycle accident case, we don't hesitate to go all out to get the client what they need and deserve.
Motorcycle Accidents in Washington State
Pre-coronavirus pandemic numbers of motorcycle accidents in Washington state indicate a dangerous environment for bike enthusiasts. The reality of operating a motorcycle in the Evergreen State is that one must be extremely cautious when deciding to hit the road.
In 2019, there were almost 2,000 motorcycle crashes, making the state average reach over 5 crashes per day.
Out of those crashes, only 360 wrecks did not involve an injury of any kind. Therefore, there is an approximately 82% chance you will get hurt in a motorcycle accident.
Almost 5% of the recorded motorcycle wrecks in Washington resulted in a death – 92 Washington motorcycle operators died in 2019.
King County carries the burden of many of these motorcycle accidents, and the data reflects a roadway environment that needs improving.
In King County alone, there were 520 motorcycle accidents in 2019.
Only 95 of these accidents did not result in injury. Data shows that there was a high degree of certainty that 405 of these accidents resulted in an injury.
In the same year, a total of 20 people died in King County due to motorcycle accidents.
Causes of Motorcycle Accidents
Many motorcycle accidents have very simple causes, such as the driver of the other vehicle failing to check the mirrors to make sure that there were no motorcycles traveling behind or to the side. When the driver of a car or truck does not see a motorcycle and changes lanes or stops suddenly, a catastrophic accident can result. Other causes include:
Poorly maintained roads
Defective equipment on the other vehicle
Whatever the cause, our firm is committed to helping victims and their families obtain justice and compensation.
Common Injuries From Seattle Motorcycle Accidents
Motorcycle accidents can be serious and life-threatening. As motorcycles are not closed-cabin like many other forms of transportation, it is fairly common for the rider of them to be ejected from the vehicle. There are numerous types of injuries that are common following a motorcycle accident.
Fractures or breakages of bones, especially of the limbs and rib cage
Whiplash
Injuries to the neck and/or spinal cord
Road rash
Internal bleeding or organ damage
Comas and loss of consciousness
Death
These injuries can be incredibly damaging to the quality of life of any individual. Seeking compensation for your losses following a motorcycle accident can be critical to paying pricey medical expenses.
What to Do if Involved in a Motorcycle Accident
The period of time immediately following a motorcycle accident is incredibly important. Following the correct steps of action after the crash can change the course of your life.
Attend to any injuries needing immediate medical attention. Your first step should always be making sure you are out of harm's way by getting to a safe location, stopping any bleeding that may be happening, and checking your vitals.
Call 9-1-1 for an ambulance and police. Professional medical attention is almost always necessary in motorcycle crashes. It is additionally necessary to connect your injuries to the incident. A police presence will be able to handle the necessary bureaucratic procedures while addressing any potentially criminal acts.
Figure out who was involved in the accident. Obtaining the names, license plate numbers, telephone numbers, and insurance information of others involved in the incident is important. Doing so will prevent the person you crashed with from trying to escape any culpability or legal consequences.
Document any evidence at the scene by taking any pictures or videos. Hard evidence will be very helpful when making a claim. Your attorney will need access to all of the evidence available to strengthen your case.
Call an Elk & Elk motorcycle accident attorney. A lawyer will be able to help you negotiate with insurance companies, file all the officially required paperwork, and represent you in court, should your case proceed to trial.
Call Now for a Free Consultation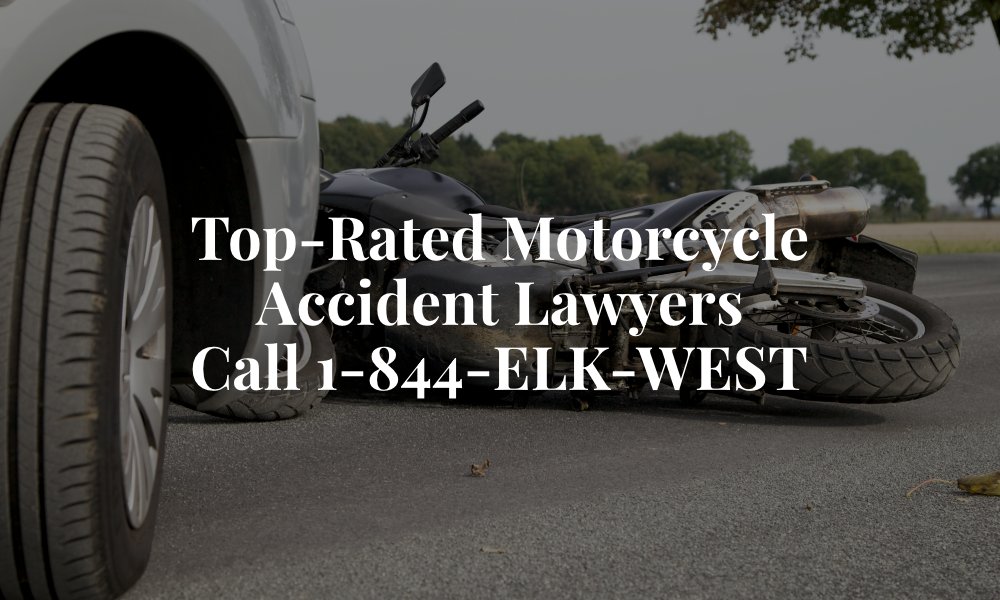 If you have been injured in a motorcycle accident, contact the Seattle law office of Elk & Elk today. Call 1-844-ELK-WEST (1-844-355-9378) or email us by clicking here to get professional legal help from a Seattle motorcycle accident attorney. Your lawyer will provide you with a free consultation surrounding your case while advising you on the next steps your legal team should take.