Seattle Premises Liability Lawyer
Premises liability is a complex area of Washington law that is centered around the concept of property. When an owner of a property fails to properly ensure the safety of visitors to their property, they may be considered liable for damages sustained by the victims. This is not always the case, however. In the eyes of a property owner, the blame should be placed on the victim due to their careless actions. Although this is sometimes the case, the effort can be ill-intended and an attempt to escape paying damages to the victim. At Elk & Elk, we offer Seattle premises liability lawyers who will not only determine liability but explore all available legal avenues to secure the maximum amount of compensation for you after your accident.
Why Your First Choice Should Be Elk & Elk
Trying to find the perfect firm following an accident on someone else's property can seem daunting and overwhelming. But Seattle residents continually seek legal help from Elk & Elk following a case of premises liability as a result of our client-focused policies:
Elk & Elk has helped our clientele secure over a billion dollars in combined compensation from personal injury cases.
We are focused on one thing: getting the most amount of compensation into the pockets of you and your family.
Making use of all of our resources, Elk & Elk has the ability to confide in the professional advice of medical practitioners well experienced in their fields to better help build your case.
We have successfully secured a significant number of multi-million dollar settlements for injury victims.
How a Seattle Premises Liability Lawyer Serves You
One of the most difficult things about making a premises liability claim is the oppositional parties' willingness to push back and cheat you of the compensation you are entitled to following your injuries. A Seattle premises liability lawyer will be able to fight back against these sorts of complications and more. Below are some additional reasons you need a premises liability attorney by your side:
A premises liability lawyer will know all the steps of a civil lawsuit to correctly file your case.
The attorney will also be educated and able to perform premises liability litigation on your behalf to increase the chances of winning your case.
An attorney can correctly determine liability and help properly calculate a victim's total losses.
Types of Premises Liability Cases in Washington State
There are many causes of premises liability cases that you should be aware of. Knowing these can better determine if your case is indeed a case of premises liability:
Slip and Fall Accidents. Slip and fall accidents can lead to many serious injuries. Those who are disabled and elderly individuals alike are more prone to incidents involving a slip and fall. From unmopped surfaces to spilled food and drink, slip and fall accidents happen more often than you might think.
Parking Lot Accidents. Poor lighting in a parking lot is one of the many ways that property owners could be liable. Additionally, criminal activity or unmarked parking/traffic indications resulting in an injury can also make a parking lot owner culpable.
Construction Site Negligence. Construction sites can be extremely dangerous areas. As construction is so prevalent in and around the Seattle area, someone traveling through or near one could be injured following negligent actions by construction workers. Dropping something, improperly using equipment, and many other actions could result in a premises liability case.
Hotel Accidents. There are many different ways that a hotel owner could be implicated in a premises liability case. Issues with utilities, insufficient security, and lock problems could all cause damages to a guest.
Dog Bites. An aggressive dog biting a bystander is one of the most cited examples of a premises liability case. In the case of a dog bite, the owner of the dog is technically not taking proper safety precautions with their property, causing them to become liable for the damages their dog inflicts. If you have been injured in an animal attack, contact our Seattle dog bite injury lawyers today.
Common Injuries Associated With Premises Liability in Seattle
Premises liability cases can be as minor as a scratch, or as serious as wrongful death. Below are just some of the different types of injuries you could endure following property owner negligence:
Spinal cord injuries resulting in paralysis or disablement
Injuries to the neck
Animal / dog bites
Cuts or lacerations
Head/brain injuries such as concussions
Broken or fractured bones
Electric, thermal, or chemical burns
Disfigurement
Death
Common Damages For Premises Liability Injuries
The damages associated with premises liability injuries fall into two main categories: economic and non-economic damages.
Economic: Economic damages can be easily assigned a dollar amount. These could include medical bills, lost wages, or damaged property.
Non-Economic: Other types of damages include emotional distress and pain and suffering. These types of injury consequences are harder to assign a monetary value to. Washington law does put a cap on non-economic damages, only allowing compensation up to 43 percent of the average wage in Washington multiplied by the victim's life expectancy, which can't be less than 15 years.
Punitive: Washington state does not allow punitive damages, meaning that the defendant can't be awarded additional punishment if the act was malicious, like they can in other states.
Visitor Legal Status
The legal status of the property visitor determines the amount of responsibility for the injury:
Invitee: An invitee is a person was invited onto the property. This could either be a social guest or a business invitee – in other words someone who entered a business. The invitation can either be explicit or implied but it is generally a visit for the benefit of the property owner or dweller.
Licensee: This refers to those who entered the property with implied permission, but often for their own benefit. For example, a salesperson coming to ring your doorbell still deserves a reasonably safe property, or reasonable warning about hazardous conditions.
Trespasser: These are people who do not have permission to be on the property. In this case, the property owner rarely owes the trespasser anything.
Duty of Care
Based on the visitor legal status, property owners legally owe varying degrees of duty of care:
Invitee: A social guest or business invitee is owned the greatest amount of duty of care. This person was explicitly invited onto the property, therefore the owner must make it as safe as possible and give proper warning about any dangerous condition.
Licensee: Since a licensee is on the property for their own benefit, they aren't owed quite as much duty of care as invitees. However, if there are hazardous conditions on the property that are difficult to be aware of, the property owner must reasonably warn the licensee.
Trespasser: Although a property owner is not responsible for warning a trespasser of dangerous conditions on the property, they also cannot purposefully cause harm or injury to the trespasser. Additionally, property owners may be responsible if the trespasser is a child under 6. It is the property owner's responsibility to make sure any attractive nuisances (like a swimming pool) are safe because they could attract children.
Statute of Limitations in Washington State
Although personal injuries caused by property owner negligence can be life-altering, every state across the United States has restrictions on how long a victim can wait until they are no longer able to file a lawsuit. This is called a statute of limitations. Like all other states, Washington has its own specific time frame in which someone can submit a premises liability claim. In Washington state, the claims must be filed within a three-year time period from the date of the injury, or else the personal injury victim will no longer be able to take legal action.
Concerned About Paying for an Attorney? We Have You Covered
At Elk & Elk, our personal injury lawyers in Seattle understand how expensive it can seem to hire an attorney. Many law firms attempt to draw any and all money they can out of their clients, despite their financial circumstances. Thankfully, Elk & Elk operates on an entirely contingency fee basis. As we move through the legal process, you will have to pay no fees until we have won your premises liability case and received compensation. This policy has benefited our clients in Seattle and across the United States.
Elk & Elk Will Help You Take Back Your Life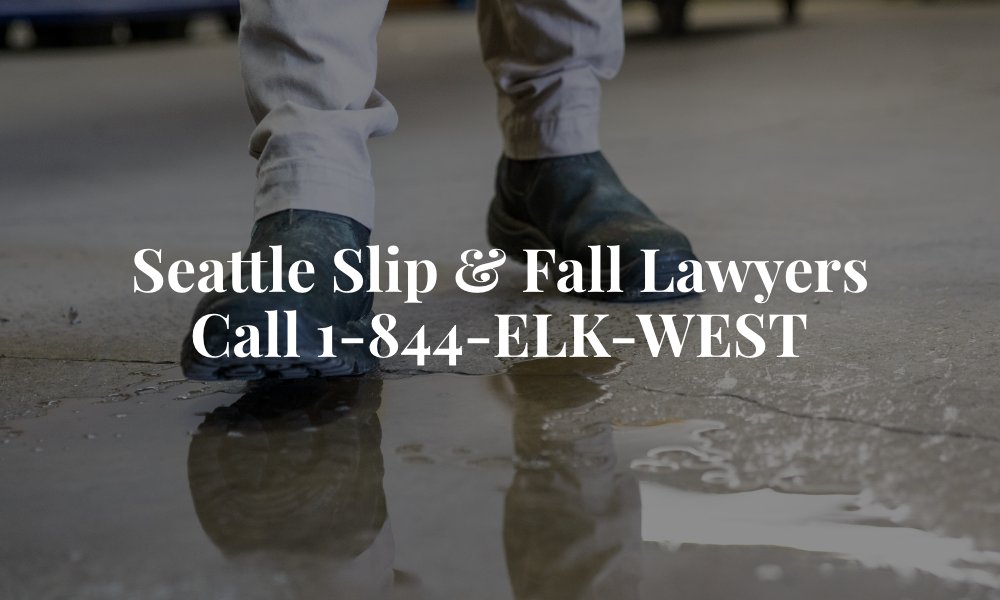 A law firm should be able to stand up for its clients and fight for their rights to fair and just compensation. At Elk & Elk, we will use clear and transparent communication so that you know exactly how we are handling your case every step of the way. By teaming up with one of our Seattle premises liability lawyers, you will greatly increase your chances of winning your premises liability claim case. Reaching out is the first step, and by calling 1-844-ELK-WEST or (1-844-355-9378) you can receive a free consultation for your case. Alternatively, you can contact us over the web by submitting a contact form here at any time of the day.