Seattle Child Injury Attorney
When placing your child in the care of someone else, you are relying on them to keep your child safe and protected. For many people, their children are the most important people in their lives. They are inexperienced and vulnerable, in need of constant, attentive care.
Under the wing of some Washington state caretakers, children may be seriously injured. The negligent action of certain caretakers can be extremely devastating for the child and their parents. Fortunately, there is a legal route available. Elk & Elk is an experienced law firm that provides Seattle daycare injury attorneys for those whose children are suffering following an injury under the care of another person.
Why Elk & Elk Is Suggested as Your One-Stop Firm for All Your Legal Needs
Securing a legal team you can trust is incredibly important when taking on a case as important as one concerning your children. Luckily, there are a variety of reasons why Elk & Elk can be your provider of confidence:
Our firm works on a contingency fee basis – meaning you will not pay any fees until you have secured the compensation you're entitled to.
The personal injury lawyers at Elk & Elk handle all of the paperwork involved in your case, ensuring that your claims are filed promptly and in their entirety.
We are trusted by Washingtonians due to our open and transparent communication style so you are completely aware of everything that is happening with your case at all times.
Why a Childcare Injuries Lawyer Is Important in Seattle
More often than not, the opposing party will attempt to refute your claim when trying to win compensation for the harm brought upon your child. Between the caretaker for the child and their employer, they may try to make dishonest claims. They may even cite generic policies that they have in place or point out a lack of directly incriminating evidence in the case.
A Seattle daycare injury attorney will be able to fight for you and your claims. Because the opposing party may refuse to pay medical bills and other forms of compensation, Elk & Elk will do everything in its power to fully exacerbate all avenues of your case to secure your compensation.
Most Common Types of Childcare Injuries in Washington State
There are numerous ways a child could sustain an injury under the care of another person or facility. Below are some of the most common ways that children are injured in a childcare setting:
Falls

. Data from

the CDC

states that falls are one of the leading causes of death amongst injuries in children. These injuries can occur anywhere, including on playgrounds, at sporting events, at grocery stores, and in the home.

Vehicle accidents

. When we examine information available from the

Washington Department of Transportation

, we can see that hundreds of children either sustained serious injuries or died as a result of vehicle collisions during the years 2020 and 2021.

Pedestrian and bicycle accidents

. Children are incredibly vulnerable in and around the roadway, but these are areas that kids congregate around regularly. Whether riding a bike or crossing the road, there's a significant risk of injury when there are vehicles in the vicinity.

Attractive nuisances or bodies of water

. Children gravitate towards interesting and dangerous situations on other people's this property. This can include construction projects, large holes in the ground or big mounds of dirt, swimming pools, hot tubs, open bodies of water, and more. Even though property owners are supposed to take steps to prevent these incidents from occurring, that does not always occur.

Defective products

. Defective products can make it into our homes anytime, and these products can include foods and beverages, toys, everyday appliances, and more. Defective products can significantly cause harm to children who may be unaware of the dangers.

Poisoning

. If a child ingests something that they should not, including household cleaners, medications, or any other type of chemical, this can lead to significant internal injuries.

Dog bites

. Dog bites are often more severe in children than they are in adults. Typically, children are lower to the ground and closer to the dog's mouth and much more likely to sustain significant facial and torso injuries.
What To Do If You Child Was Injured at School 
If your child sustains an injury at school, the number one priority is seeking medical care as soon as possible. Chances are, the school already knows about the injury, but you need to make sure that it has been officially reported to the administration as soon as you know your child is medically stable.
Do not sign anything the school puts in front of you. Your first call should be to a skilled child injury lawyer in Seattle who can help you understand what steps you need to take next. Injuries that occur at school should absolutely be covered by the school system's insurance carrier, but they may put up a fight from having to payout compensation. It may be necessary to file a personal injury lawsuit against the school and the school district.
Compensation Available If You Child Was Injured
If a child is injured due to the careless or negligent actions of another individual or entity, their parents should be able to file a personal injury lawsuit to recover compensation on their behalf. There may be various types of compensation available in these situations, including:
Complete coverage of medical bills related to the incident

Compensation for a parent's lost wages if they cannot work while caring for the child

Out-of-pocket expenses related to travel to and from medical visits

Pain and suffering damages

Loss of quality of life damages
There is no set amount of compensation paid to children and to their families in these situations. Various factors will need to be evaluated by attorneys and insurance carriers, and possibly even a personal injury jury before an amount is settled on.
Elk & Elk Is Here to Guide You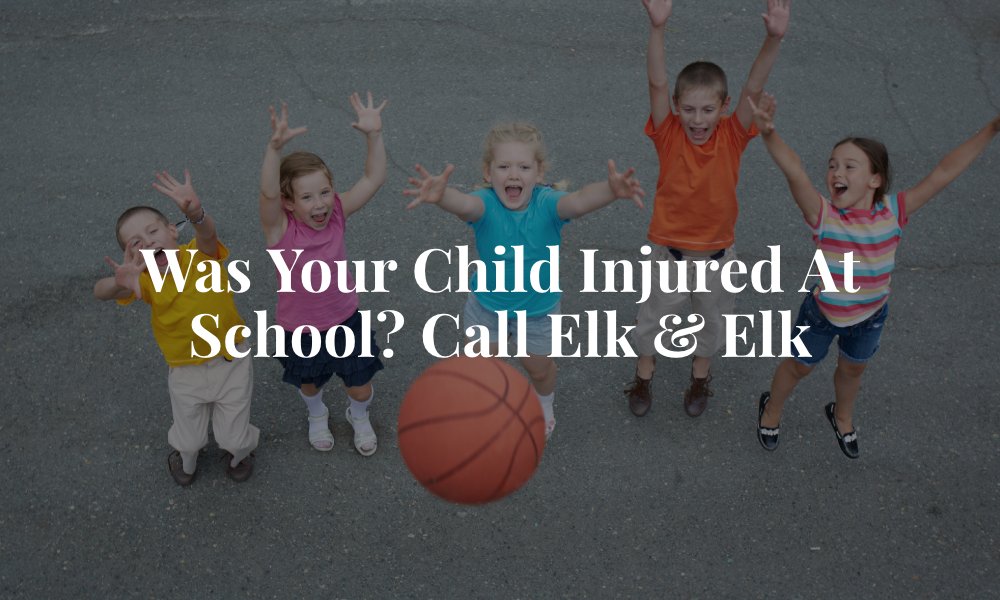 As children are central to many parents' identities, taking legal action following the injury of their kid is a no-brainer. Parents usually inherit large medical bills from hospitals, pushback from the offenders and insurance companies, and grief as a result of the negligent or careless actions of someone they entrusted with the wellbeing of their children.
To take the next step in your family's path to recovery, please call 1-844-ELK-WEST (1-844-355-9378) or click this link to be redirected to a contact form. Elk & Elk's Seattle daycare injury lawyers are ready to put their knowledge and experience to the test so that justice is found in the legal system.