Seattle Boat Accident Lawyer
With numerous bodies of water like the Puget Sound, Lake Washington, and Lake Sammamish around the Seattle area, boating and other watercraft activities have become very important to Washingtonian culture. As families and friends take to the water, it is crucial to keep in mind the myriad of impacts that a water accident can have on a person's life.
From oxygen deprivation to physical injuries, accidents on the water are more common than many people think. These incidents are often caused by the careless or negligent actions of a boat owner or operator. If you or a loved one is involved in a boating accident, you need to seek assistance from a Seattle boat accident attorney at Elk & Elk to file a claim. Contact us today to schedule a free consultation
Why Hire Our Seattle Boat Accident Lawyers?
Elk & Elk has extensive experience handling a wide variety of injury cases across Washington, and regularly handles complicated areas of Washingtonian law, such as boating and watercraft accidents.
Our lawyers will take an empathetic approach to your case and stand by you every step of the way, ensuring clear and open communication throughout your claims procedure.
We take watercraft accident cases on a contingency-fee basis. Our clients are free from paying upfront or out-of-pocket costs, and will only pay legal fees after we win their case.
Why Do Watercraft Injuries Require Professional Legal Assistance?
Boating injury cases represent complex areas of law, requiring knowledge of local, state, and federal nautical legalities that only a skilled lawyer can provide for you.
The difficulties of collecting information and evidence regarding the crash are alleviated by an experienced boating and watercraft injuries attorney.
Finally, a personal injury lawyer can exercise expert differentiation between legal systems if the accident happens to occur near the Canadian border or international waters.
Boating Statistics in Washington State
Unfortunately, many people are victims of these boating accidents across the state of Washington. The Washington Parks and Recreation service allows us some insight into the reality of marine recreation:
In the latest reporting year, there were nearly 50 injuries for every 100 boating accidents.
Out of the same amount of accidents, there were over 13 deaths, placing the fatality rate of being involved in a boating accident in Washington state at a worrisome 13.2%.
Lack of attention by the operator, operation inexperience, and alcohol and/or drug use are amongst the leading causes of boating accidents.
There is around $1.28 million in damages to property annually as a result of boating accidents.
The three main types of accidents were: a wreck with another recreational nautical vehicle, collision with a fixed object, and flooding of the watercraft.
In the same reporting year, 88% of vessels involved in accidents were motorized, 8% involved paddlesports, and the remaining 4% were other motorized vessels.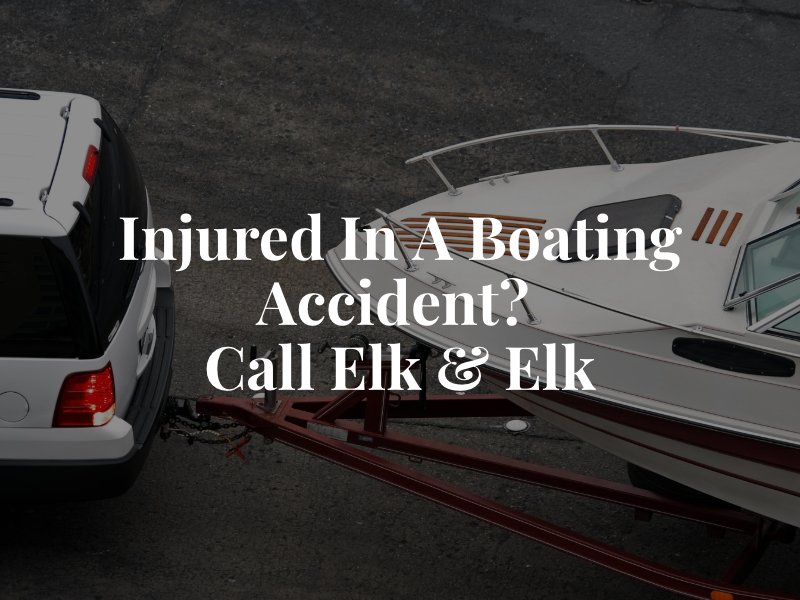 When Your Plans Go Overboard, Contact a Seattle Boat Accident Lawyer
Dealing with what comes after a boat or watercraft injury can be extremely difficult, particularly for those who need compensation. Many Washington residents suffer intense injuries or lose loved ones due to accidents involving boats, jet skis, and other types of watercraft.
To ensure the best possibility of securing compensation for your losses, you need to reach out to a Seattle boating and watercraft injuries attorney. At Elk & Elk, we are passionate about what we do and hope to fight by your side for the compensation you are entitled to. If you would like to connect with legal representation, please consider calling 1-844-ELK-WEST (1-844-355-9378) or clicking here to fill out a 24/7 online contact form.